I love how this time of year forces us to count our
blessings. I am so thankful for so many things. One
of them, being you! You know how to make a girl feel good
, I feel like I have the best
followers! To show my gratitude, I'm giving one
lucky winner this beautiful necklace.
I loved this necklace so much I bought 2--one for
I love the blue color and the size of the flower--a
I would love to give this to one of my lovely
followers--just leave one comment and I will choose
the winner Tuesday, November 29th, and announce it
that night at my linky party.
Just think you and I could be twinners, or you
can
re-gift it to some lucky girl for Christmas,
I won't
tell!
I'm also thankful for my lovely sponsors, give them a visit!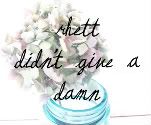 I'm off to have a fun family-filled weekend. The
next time we meet I'll be talking Christmas.